Details     
GENRE: NONFICTION
ISBN: 9781945783050,
9781945783067
PUBLICATION: APRIL 30, 2020
156 PAGES
PAPERBACK $19.99
EBOOK $9.99
Disclosure: Some of the links above are affiliate links, meaning, at no cost to you, How2Conquer will earn a commission if you click through and make a purchase.
Rule a Healthy Roost
Nutrition, Recipes, and Activities for Modern Families
Do you want your kids to take ownership of their own eating habits? Want them to do some exercise while they watch TV? Open a dialogue before you open the fridge.
Rule a Healthy Roost provides just the right amount of easy-to-use information to make nutrition and fitness as simple and fun as possible, as well as tips for getting everyone on board. With humor and a good scoop of mom-sense, Leslie Smith Grant walks you through:
Nutrition and Kitchen 101
Safety advice
Tips for cooking with kids
Shopping and pantry tips
Recipes and menus
Activities and games
…and more!
Having fun with your kids is great exercise, but getting them to eat fruit and vegetables doesn't have to be a game of chicken. Join Leslie as she shares how to create easy homemade meals from fresh ingredients, invite your kids into the kitchen to help make parent-approved kid cuisine, and shake a leg together with old-school P.E. exercises and activities.
Additional Content
Download the Rule a Healthy Roost Nutrition Tracking Board!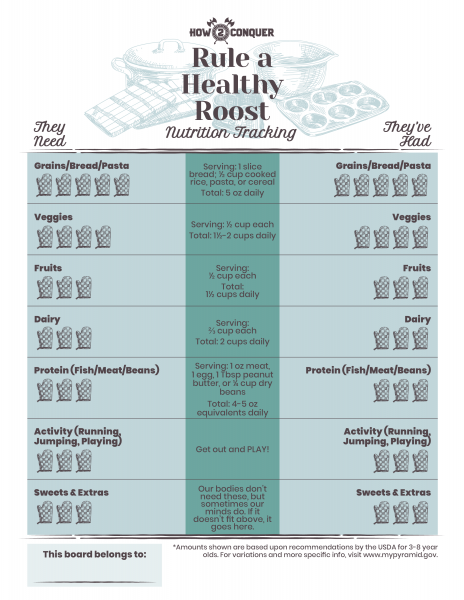 Media Kit
For more information, please contact us.
Blog Posts & Podcasts
Share This!