Details     
GENRE: NONFICTION
ISBN: 9781945783005,
9781945783029
OCLC: 1084684793
PUBLICATION: 2016
154 PAGES
PAPERBACK $14.95
EBOOK $9.99
Honey, Have You Squeezed the Dachshund?
A Guide for Dachshund Owners Who Are Terrified of IVDD
Approximately one in five dachshunds will experience some level of Intervertebral Disc Disease (IVDD) during their lifetime, and other long-bodied breeds get IVDD too. But IVDD does not have to mean a death sentence. If you know how to manage the condition, your IVDD dog can still have a high quality of life, doing all the doggy things that dogs do.
With humor and kindness, Kristin Leydig Bryant and Dr. Adam Christman walk you through caring for dogs with intervertebral disc disease (IVDD). Topics include:
How to recognize the earliest signs of this inherited condition
Ways to minimize the risk of a painful or paralyzing disc rupture
Advice on choosing a treatment path and providing follow-up care
Honey, Have You Squeezed the Dachshund? shares Kristin's many years of experience in home care as a foster mom for DREAM Dachshund Rescue and Dr. Christman's knowledge as a practicing veterinarian and IVDD dog dad. Their combined perspective and practical strategies will give you confidence in talking with your own veterinarian and taking care of your dog during treatment and recovery.
In the News
Videos
Share This!
Color This!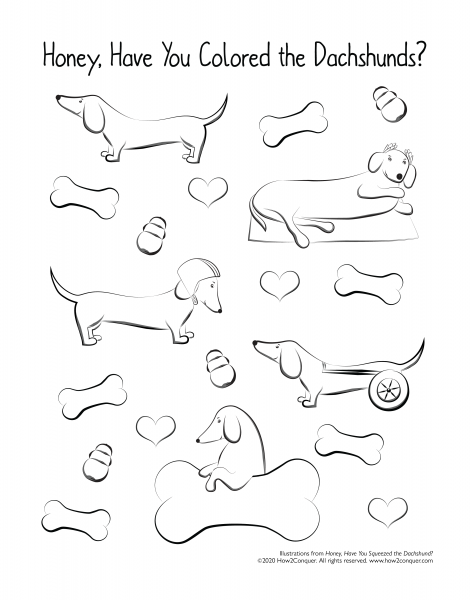 "Honey, Have You Squeezed the Dachshund? is a must-have for dachshund owners! Even if you are not currently dealing with IVDD, the information is invaluable. When I adopted my first IVDD dog over 10 years ago, I had to learn how to care for him all on my own. A book like this would have saved me lots of headaches, and lots of carpet cleaning! The authors have brought it all together in a simple, concise, and humorous way to let dachshund parents know what to expect before, during, and after an IVDD episode. The charts and checklists will help you navigate the 'what ifs' of IVDD. From having proactive conversations with your veterinarian, to crate rest, treatment and therapy options, to daily care of an IVDD dog (including the squeezing of the bladder!), this is a book you need!"
– Angela Johnston, dachshund mom to Skippy (IVDD survivor and multiple champion of the National Dachshund Races wheelchair division) and Maggie (IVDD survivor)
"I have been a mom to IVDD and paralyzed dogs for many years and have managed countless IVDD patients in practice – this information is spot-on! A fantastic, well-written, informative, easy to understand, and entertaining guidebook on how to manage your dog's health and well-being if he or she develops a back problem or becomes paralyzed. This book addresses not only what to do and what not to do, but additionally touches on the difficult emotions we often have surrounding the diagnosis, treatment, choices, and management of our fur-children in these stressful circumstances. Everyone with a dachshund or long-back dog should read this – I will undoubtedly be recommending this book to all of my long-back dog owners."
– Dr. Carolyn Karrh, DVM, Denver, Colorado
"While we all hope our dog is never diagnosed with IVDD, education is key. Kristin Leydig Bryant and Dr. Adam Christman have done a valuable service in putting together this very detailed book on how to live with, and care for, a dog with IVDD; how to be prepared ahead of time should this happen to your pup; and how a dog with IVDD can thrive! The added touch of humor in this book, I can personally attest, is the medicine that got me through when my dachshund became paralyzed."
– Barbara Techel, founder of The Frankie Wheelchair Fund and National Walk 'N Roll Dog Day, author of Through Frankie's Eyes: One Woman's Journey to Her Authentic Self, and the Dog on Wheels Who Led the Way, plus two children's books about her paralyzed dachshund, Frankie (the Walk 'N Roll Dog)
"Read it. Highlight important sections. If you have a dachshund (or any longbodied dog) of any age, this book will guide you through coping with IVDD, whether your dog is in an active episode or in recovery. IVDD dogs know joy, love, and doxietude! IVDD dogs are tenacious, strong, and whether they have wheels or four paws on the floor, they are ready for action!"
– Brenda Johnson, co-founder of K9BackPack.com and Getalongdog Rescue; dachshund mom to Billie(IVDD survivor) and Freddie
"Will make even the most insecure person feel as though they can tackle anything that comes their way if their dog should go down with IVDD."
– Carole Harden Taylor, rescue advocate and admin for Celebrating Dachshunds Facebook Group; dachshund mom to Ruby, Wolfgang (IVDD survivor), Marlee, and Stanley
"Brilliant. Makes a complicated disease and situation easy to understand from not only the medical aspect but the emotional stress and heartbreak that pet owners feel. Extremely informative and emotionally supportive. I will be buying copies to give to all of my clients when they bring their dogs in to my office for this disease. Thank you for writing such a great resource for my clients and patients!"
– Dr. Annie Price, DVM, Atlanta, Georgia
"This book lets you know that you and your ween are NOT alone. There are things you can do starting right away to make a bad situation not so bad, and even make it better."
– Regina Reif, RVT and dachshund mom to Zooey and Paddington