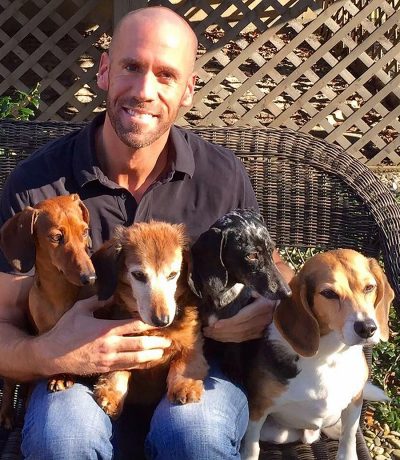 Dr. Christman has had a fond attachment to dogs with back problems beginning with his neurology rotation at Iowa State University College of Veterinary Medicine. After his rotation, he furthered his skills by taking rehabilitation classes to gain a greater sense of respect for these guys and their possibilities.
Upon completion of veterinary school, Dr. Christman started practicing in his home state of New Jersey. He anticipated the day that he would encounter another IVDD dog, and sure enough, Cosmo, a beautiful, red, long-haired dachshund, came in to his practice. Cosmo's owners were unable to afford his surgery and turned guardianship over to Dr. Christman. Although Cosmo had lost deep pain sensation before surgery, Dr. Christman, hopeful, moved forward with a hemilaminectomy. After months of rehabilitation, including acupuncture, underwater treadmill, and massage, however, Cosmo's paralysis was permanent.
Nine years later, Dr. Christman is still madly in love with Cosmo. He also has two other dachshunds and a beagle, who are his world. Recently, Dr. Christman was in the rehabilitation process with a dapple dachshund, Chelsea, who had L1, L2, L3 hemilaminectomy surgery. She is walking and doing beautifully!
Dr. Christman believes strongly in the human-animal bond and will do anything he can to strengthen that relationship. He loves helping dogs with special needs and disabilities, and he especially enjoys showcasing IVDD dogs, including Cosmo, on his YouTube channel to demonstrate how easy caring for these wonderful, loving creatures can be.
Dr. Christman has practiced veterinary medicine for more than 13 years and is Co-Chief of Staff at Brick Town Veterinary Hospital in Brick, New Jersey.